Last Monday Flamingo Candles launched their Spring 2015 Collection. There are five beautiful fragrances in the collection; Rose & Marshmallow, Raspberry & Salted Caramel, Mango & Dragonfruit, Green Apples and Daisy. I was torn between trying Rose & Marshmallow, Green Apples and Daisy. All five sound delicious, as you can imagine it was a hard choice. In the end I decided to go for Rose & Marshmallow* and the lovely folk at Flamingo Candles sent one over for me to try out.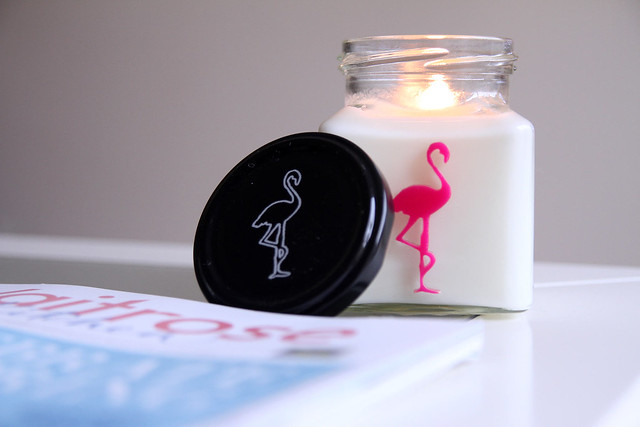 The jar is a neat square with the sweet little flamingo logo on the front. They're hand-made in South Wales from organic soy wax and a cotton wick. This means they're eco-friendly, non-toxic and they also hold the scent well. Each candle has a burn time of 50 hours which I think is really good for the price (£12). I recently used up my Parma Violets candle from their Candy Shop collection (which I loved) and I'm now using the jar for my make-up brushes.
The Rose & Marshmallow candle gives off a fresh floral scent of rose but has a sweet and sugary kick. The scent is soft but fills the room quickly (1 hour), however even after a few hours it doesn't become sickly which I was very pleased about. As many of you will know, I normally enjoy spicy scents but I've been pushing out of my comfort zone and learning to embrace new and fresh scents. I've really enjoyed burning Rose & Marshmallow over the last week and it's been very popular with the family. The scent is detectable but not overpowering which means it's a perfect candle to leave burning for a good few hours.
If you're a fan of good quality candles, beautiful packaging and all for British manufacturing then Flamingo Candles is the brand for you. Like any good brand they have an awesome Instagram page, go and show them some love.