When TravelSupermarket asked if I'd like to rent a car through their site* I knew that it was the perfect excuse for a day trip to Southwold. Some of you may know that I used to live just outside Southwold and would spend many days reading on the beach and exploring the surrounding countryside. I loved living there and although I miss it so much it's nice to be able to go back for day trips and really enjoy everything this little town has to offer. Today I'm going to tell you about my trip to Southwold last weekend as well as giving you all my hints and tips on the best things to do, see and eat.
As soon as Phil and I arrived back from Crete we hit up the TravelSupermarket website to hire a car for our day trip. The site was very easy to use and it didn't take long to get a rental car booked. I liked being able to adjust the search by budget, provider and car style. There were more options but these are the ones we used to finalise our decision. We picked the car up from Avis on Saturday morning and dropped it off the same evening, even though the office was closed. I thought this was very handy and the friendly staff made sure we knew exactly what to do.
I don't currently own a car because I live in a city centre and have very little need for one. However, now that I've had the experience of renting one I'd be keen to do it again for future day trips.
On our arrival in Southwold we headed straight down to the harbour in search of fish and chips. I'm a long-term fan of Mrs. Ts which is easy to spot as you stroll down the harbour. If you do happen to miss it then keep an eye out for the seagulls, they'll point you in the right direction. The service is always fantastic (I've been coming to this fish and chip shop for years), the staff are very friendly and the shop is always filled with regulars. Everything is freshly cooked and there's even the option to sit in the restaurant which is handy when it's raining. I prefer to take my food down to the sea and sit on the beach.
Pro Tip: If you fancy saving a little money or simply want a smaller portion then I suggest opting for the kids size.
I thought I'd include the opening times for any of you who might be taking a trip to Southwold soon. During the summer months this little fish and chip shop gets very busy. Make sure you arrive early or just after the lunch time rush. If you happen to find yourself in a long queue then don't worry, the fish and chips are worth the wait. If you visit the town before the summer holidays then it won't be quite as busy.
I really enjoy walking around the harbour. There are lots of workshops where you can see new and old boats, seagulls waiting for leftover fish and chips and plenty of photo opportunities. If you fancy a G&T give the Harbour Inn a try. It's a quaint little pub with a relaxed atmosphere and I'm pretty sure it's dog friendly.
If you fancy going on an adventure while you're in Southwold then you should check out the Voyager boat trips. We didn't have the time to do this on our visit but it's well worth it, especially if you're staying in the town for a couple of days. My mum and sister said that the seal and wind farm trip is a lot of fun.
If you have time to explore a little further away from Southwold then a leisurely walk over to Walberswick is always a good idea. It's a walk I've done many times before in sunshine, rain, snow and even hail. It takes about 15 minutes from the harbour depending if you swing left at the bridge or take the longer route past the pretty houses. Alternatively if you're walking over from the centre of Southwold then it takes just over half an hour.
For a bit of fun you should try taking the ferry, which isn't quite a ferry. It's a small rowing boat that will take you across to Walberswick for just £1. I believe it's one of the last remaining rowed ferries in the UK and it's been going for years. I remember clambering aboard when I was very young, around the time the ferrywoman was taking over from her dad.
After our fish and chips we decided to walk from the harbour to the town. There are a few ways to get there; by the beach, along the sand dunes, down Ferry Road (near the sea) or York Road (by the Harbour Inn). We took Ferry Road which takes around 15/20 minutes depending on how often you stop to look at the cute little homes and walk up onto the dunes.
The weather wasn't the best on our day trip but we didn't let that spoil our day. I always walk down onto the beach, even when we visit during autumn. Looking out to sea is wonderful throughout the year. The colourful beach huts stand neatly in a row lining the promenade. We walked along and looked at all the interesting names that people have picked for them. We walked down to the sea and although I didn't dip my toes in it got me excited for future Southwold trips during the summer.
If you're staying down by the sea for a while then grab a cuppa or ice cream from Gun Hill Teas or Suzie's Beach Cafe. Take some time to relax and enjoy the views.
One of my favourite shops in Southwold has got to be Nutters. It's a little delicatessen that's been there for years. I love to stock up on snacks to take down to the beach during the summer months or just to take back home with me. They have a wide selection of healthy and interesting brands, lots of cheese and the windows are filled with locally made jam, chilli sauce and teas. It's always worth stopping by, even if you just want to nosey at the wall of photos to see where Nutters shopping bags have visited over the years. I'm pretty sure we took one on our trip to Iran a good few years ago.
You don't have to spend a lot of money when you're in Southwold. Grab a quick coffee and some old fashioned sweeties to fuel you with energy and you're ready to explore. You can stroll around the town and see all the colourful houses, walk down to the beach front and venture out down onto the sand or, as I mentioned before, you can make your way over to Walberswick.
If you fancy doing something a little different then I can confirm that the Adnams tours are well worth it. It's taken me years to get 'round to going on a tour but we finally did it on this trip. There wasn't any room on the brewery tour but we made it onto the distillery tour (you all know that I love gin). There's even the option to make your own gin, this tour is a little more expensive but I imagine they'd be a lot of fun for a birthday treat for any gin enthusiast. You can book a tour over on their website.
Pro tip: Book in advance to avoid disappointment, especially during the summer months.
The tour took around an hour and a half and that included a trip to the Adnams shop to try out the different drinks made my Adnams. I really like their First Rate gin and their limoncello. Our tour guide was very fun, engaging and had full knowledge of Adnams history and the distillery. I was pleased that the tour wasn't rushed. We had lots of time to take photos and ask questions. I didn't know a lot about the process of making gin before the tour but I feel like I learnt a lot and I now have full appreciation for the gin making process.
There are a lot of cute little shops in the town. Unfortunately a lot of the old independent shops have gone and made way for bigger names. I'm pleased that many of them do fit in with the Southwold style though.
Daddy Longlegs is a long-standing shoe shop in Southwold, it's filled with a wide variety of shoes and the owners are very helpful and friendly. Southwold Post Office aka Spots, is also a lot of fun, especially for little ones. Thomas Traddles is a must visit for menswear, my dad loves it and I always like to pop into Collen & Clare because their coastal picks are the best.
I have another foodie favourite for you – Two Magpies Bakery. They do an excellent coffee and a fantastic mocha which is made with real chocolate. I always go for the dark chocolate but you could try the milk, caramel or white. They sell a selection of fresh breads and delicious cakes which make a beautiful window display. Make sure you arrive early to take full advantage of what they have to offer. They're always changing up their menus so it's fun to see what they've got on offer each time you visit. If you're lucky enough to be staying in Southwold for a few days then make sure you're around for their Saturday evening pizza – here's the menu.
We grabbed a coffee and a couple of cakes from Two Magpies Bakery and took it down to the beach front. We sat on a bench on the front, looked out to sea and discussed out future plans. The bench just so happens to be a very special one, it's dedicated to my grandma's father. I told you that this little town holds a lot of memories for us.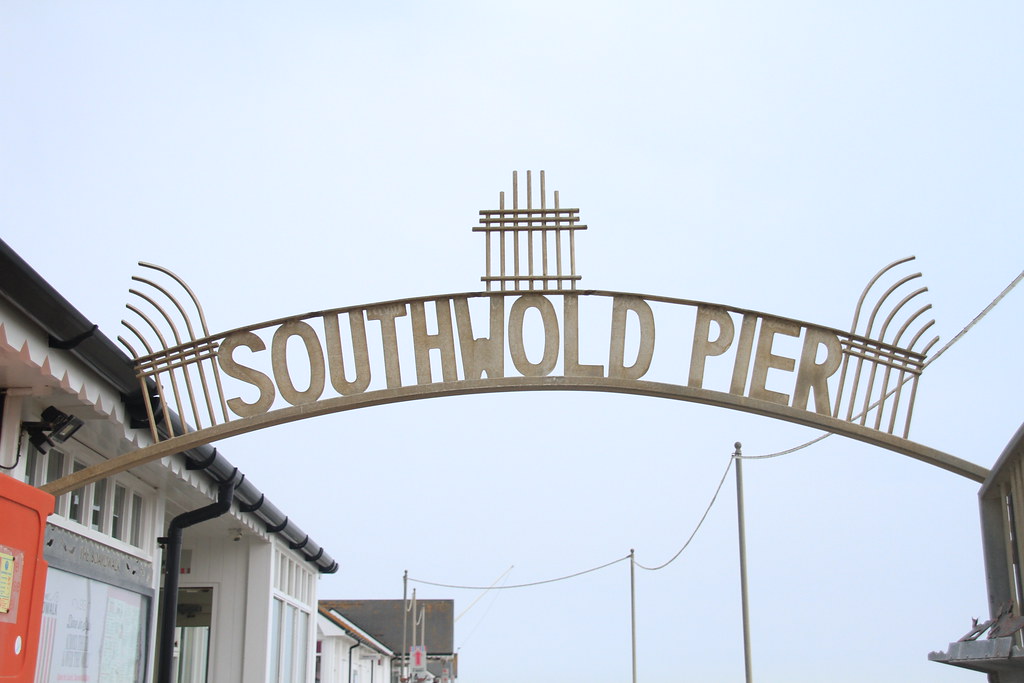 A trip to Southwold would not be complete without visiting the pier. We walked down to the pier after we'd warmed up from the coffee. There are a few places to eat and drink on their pier and of course, they offer beautiful views across the beach and out to sea. I personally like The Clockhouse for a slice of cake and a coffee.
We weren't there for food though, we were in search of the oddities in the middle of the pier.
It was starting to get chilly and particularly windy as we made our way down the pier. We bobbed in and out of the shops 'til we made it to my favourite spot. Southwold Pier is full of unusual sights like the Under The Pier Show – my fave. It's basically a quirky amusement arcade. The designer behind these fantastically crazy creations is Tim Hunkin, an engineer, cartoonist, writer, and artist living in Suffolk. I tried out The Booth of Truth. The curtains closed slowly behind me and I was encouraged to slide my hand into the slot. It was filled with mystic balls which were used to assess my character. The Microbreak you can see in the photo is a simulator ride which treats you to a super quick mini holiday.
The waterclock is one of my favourite pieces by Tim.
Always end your trip to Southwold with an ice cream or sorbet. My personal favourites come from the pier or Beaches and Cream which you can find on Queen Street.
Let me know your favourite UK day trips in the comment section below.
Thank you so much to TravelSupermarket for inviting me to rent a car and treating me to a day out at my happy place in the UK.