It doesn't feel like long ago that I was telling you all about the launch of Bake Box (omg it's been 7 months since Christmas).  Fast forward a few months and I'm delighted to share the exciting news with you that I'm a Bake Box Ambassador, isn't that cool?
Bake Box is a subscription service for anyone who loves to bake. It's £14.99 per box plus postage and with that you'll receive 1 box every 2 months. Each box will be filled with 6-8 bakeware items, recipe cards and access to Bake Club Live. You don't need to be an expert to sign up, the idea is to have fun and learn new skills.
I'll be sharing my thoughts on each Bake Box here on Prettygreenta and over on Twitter. I'll be sharing recipes, giveaways and any new baking tips I pick up along the way. I'll also be focusing on making dairy free treats with the help of the tools in my Bake Box and I'll be experimenting with making some egg-free recipes too.
The May Bake Box was all about Flower Power, an excellent theme choice IMO. Inside the box I found:
– Silicone rose mould
– Floral pie topper
– Three sets of flower cutters
– Pink Rainbow Lustre Dust
– Set of 4 flower plunger cutters 
– Silicone flower moulds
– Chocolate deco mat
There were also 6 recipe cards for; Rose Cake, Mini Cheesecakes, Flower Jellies, Flowerpot Cupcakes, Floral Celebration Cake and a Blackberry and Apple Pie. I really like the addition of the recipe cards in the box. They're handy to use as inspiration and a guide for how to use the tools within the box. Remember that they're just a guide. You can get as creative as you wish and alter the recipes according to your tastes and any allergies you may have.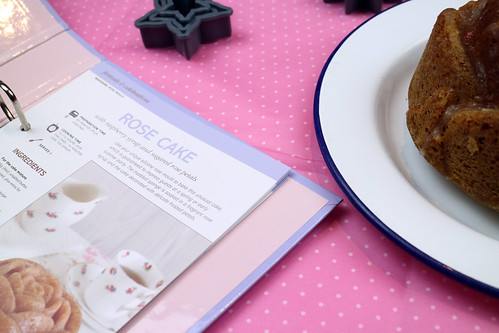 The other evening I followed the recipe for the Rose Cake but used dairy free alternatives. It turned out very well, rose is one of my favourite flavours.
I enjoy using the silicone cake moulds because they're an easy way to create a fancy cake. The cake came out as a perfect rose shape. I particularly liked the caramalised crust around the super soft and fluffy sponge. Admittedly I probably left it in the oven a little too long but it still tasted very good. I covered the cake in a rose sugar syrup, just like you would with a lemon drizzle cake.
By the way, silicone moulds are super easy to clean. 
I hope you enjoyed this sneak peek into the May Bake Box. If you have any questions about the subscription or if there's a particular recipe you'd like me to share then leave a comment below or drop me a message on Twitter.